Artist. Creator. Visionary.
The Joe Moore Award trophy, created by legendary sports sculptor Jerry McKenna, depicts all five offensive linemen just before their moment of truth, as they prepare to control the line of scrimmage. A bas-relief on the base features the likeness of Joe Moore. The bronze trophy weighs in at the size of a large lineman – about 350 pounds – and is five feet wide by four feet tall. Each player stands approximately 26 inches tall and their numbers (50, 60, 70) represent the historical designations for each position.
"The trophy is big, heavy and features a bunch of 'big uglies' – a true representation of our offensive line fraternity," said Aaron Taylor, CBS Sports CFB Analyst and Chairman of the Joe Moore Award Voting Committee. "It takes all five linemen to win it, it should take all five to lift it!"
​
Jerry McKenna Ranks

#

1 and




#

5 of Top Five College Football Sculptors in NCAA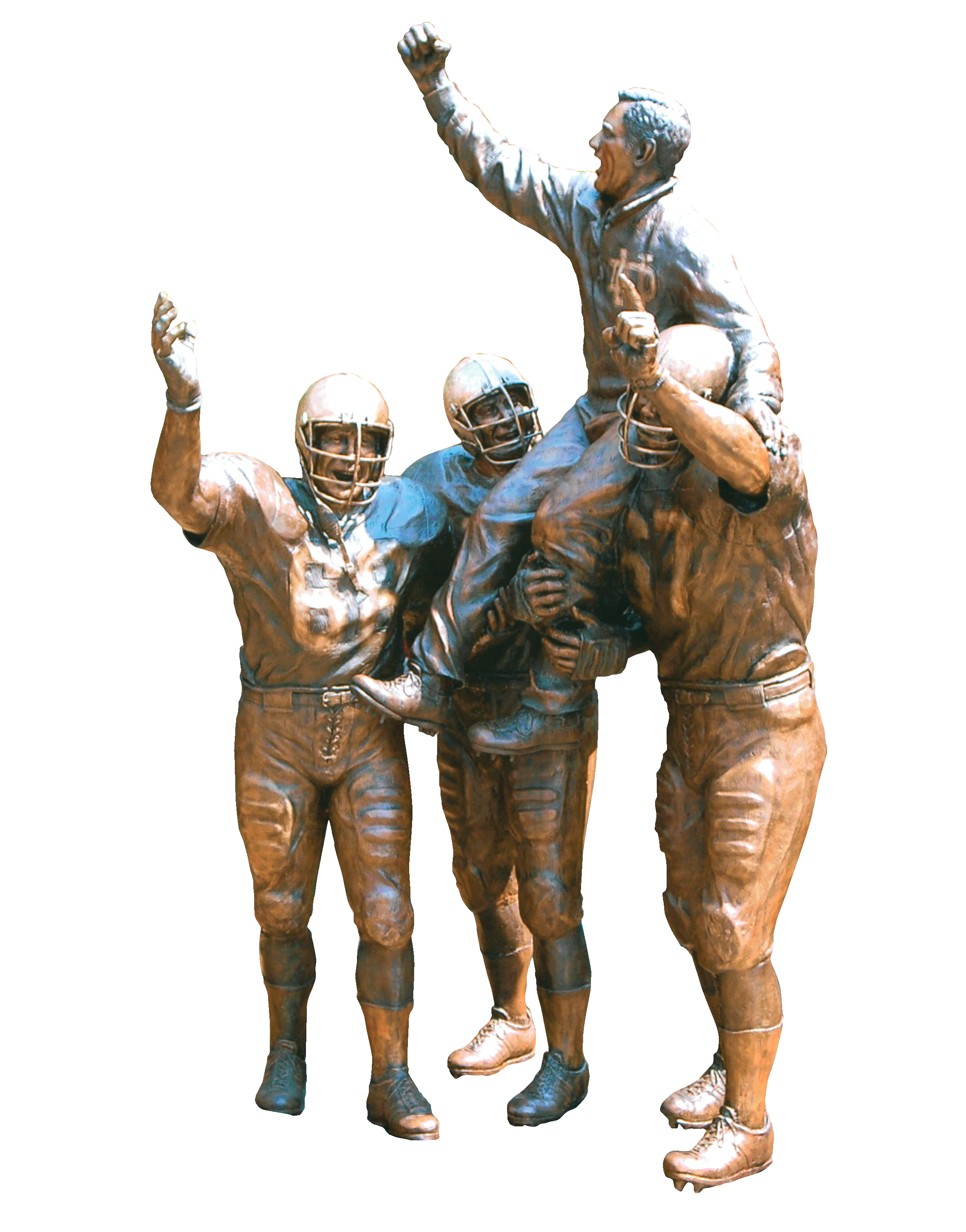 THE #

5

SCULPTURE IN COLLEGE FOOTBALL
2008 Bronze Sculpture "Victory" - Ara Parseghan,
at Notre Dame Stadium

THE #

1

SCULPTURE IN COLLEGE FOOTBALL
"The Four Horsemen" at Notre Dame Stadium


Pictured are Jerry McKenna & Nils Rockne, son of Knute Rockne.
In his lifetime Notre Dame alumnus Jerry McKenna has been a lot of things: A student, a decorated war veteran and a sculptor. Because of the latter, McKenna is now a Rockne Heritage Award Winner, the honor recognizing a life dedicated to the arts. His works include over 200 sculptures worldwide and 25 sculptures on the Notre Dame campus, including the legendary coaches that guard the gates and Notre Dame Stadium.
ABC 57 Saturday Kickoff's Vahid Sadrzadeh had the privilege to take a stroll with the sculptor.
(Special thanks to ABC 57 Photojournalist Todd Madding and Executive Producer Heather Ferrell)
The Buffalo Sabres
"French Connection Sculpture"
The Buffalo Sabres formally unveiled a sculpture honoring the team's renowned French Connection, one of hockey's all-time greatest forward lines, in a public ceremony outside First Niagara Center on Friday, Oct. 12 at 7 p.m. This date was chosen because the French Connection first played together on one line in October 1972.
The bronze statue depicts all three members of the French Connection – comprised of center Gilbert Perreault, left winger Rick Martin and right winger Rene Robert –and will serve as the anchor of Buffalo Sabres Alumni Plaza, a tribute to all former players of the team.
​
ABOUT THE SCULPTURE:
Inspiration for the sculpture came from a photograph taken during a playoff game in April 1975 that features all three members of the French Connection. The photograph, which was taken by Ron Moscati, is considered extremely rare because so few pictures exist with all three players in the same shot during play. The photo is also significant in that all three players scored a goal in that game, which secured a playoff win against the Montreal Canadians.
​
To design and construct the sculpture, the Sabres commissioned American sculptor Jerry McKenna. McKenna, who is based out of Boerne, Texas, is a distinguished sculptor who is well known for his sports sculptures. He was named the 2003 'Sports Sculptor of the Year' by the All-American Football Foundation in recognition of his 17 portrait busts in the Pro Football Hall of Fame, his sculpture of legendary Notre Dame football coach Knute Rockne at the College Football Hall of Fame and countless others throughout the country. McKenna is a decorated Air Force veteran and received early recognition from his bronze portraits of famous Air Force leaders such as Generals Billy Mitchell, Ira C. Eaker, and Jimmy Doolittle. His work can be found in museums, parks, churches, public buildings, universities, halls of fame, and private collections around the world.
After the French Connection
Dedication & Behind the Scenes